Overview of Nonprofits
The mission of Nonprofit work is to serve, advocate or make positive change. 
Get an overview of careers in nonprofits with Margot Gould, head of fundraising at The Climate Group.
Get details on the salary and job security of these Nonprofit careers: 
Get Career Ready for Nonprofits
Find out what it takes to land a career in Nonprofit
Earn a Degree
To work in the Nonprofit field, it is recommended you have a strong background in relationship building, fundraising, strategic planning, project management, and teamwork. Check the Mason Catalog for degree requirements.
Any major can lead to a Nonprofit career, although a foundation in Nonprofit Studies can be helpful.
Some options at Mason include:
Certifications like these can also increase your employment options in the Nonprofit field:
Gain Experiences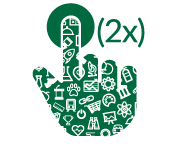 Employers expect at least six to twelve months of related experience to be competitive for full-time positions. Gain experience while you are a student at Mason.
Market Yourself
It is important for you to be able to clearly communicate the knowledge, skills and experiences you have gained in and outside of the classroom.
Below are top ways to showcase your qualifications to nonprofit employers: 
Resume
Cover Letter
In your cover letter, clearly express how your passion along with your knowledge, skills, and abilities align with the organization's mission.
Career ready Mason grads have gone on to work for nonprofit employers, such as: 
| | | |
| --- | --- | --- |
| Fellowship of Catholic University Students  | Nature Conservancy  | The World Bank  |
| American Red Cross  | Mercatus Center  | Wolf Trap Foundation  |
| AARP  | RAND Corporation  | Young Life  |
Join the Nonprofit community
Get involved and grow your network while you're still a student.
Nonprofit Professional Associations 
Your career advisor can help you decide where to start.