In Career Preparation Courses, you'll earn credit toward your degree while making real progress on your career before graduation. They are taught by employers and career advisors who can offer in-depth guidance on setting goals for every stage of your career path.
Find the course that fits your needs
Online and accelerated sections are available for these zero to one-credit courses.  Get more details below, and register in  PatriotWeb!  If you need help deciding which  course is the right one for you,  schedule an appointment  in Handshake. 
How Career Preparation Courses help you reach your goals
Earn A Degree
Choose a major and find ways to use it after graduation.
Gain Experiences
Search for and apply to opportunities and add experience to your resume.
Market Yourself
Get the tools you need to showcase your skills and accomplishments
.
Career Ready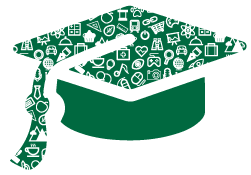 Get an introduction to different facets of work for a smooth transition from college to career.