George Mason University has a commitment to producing career-ready graduates.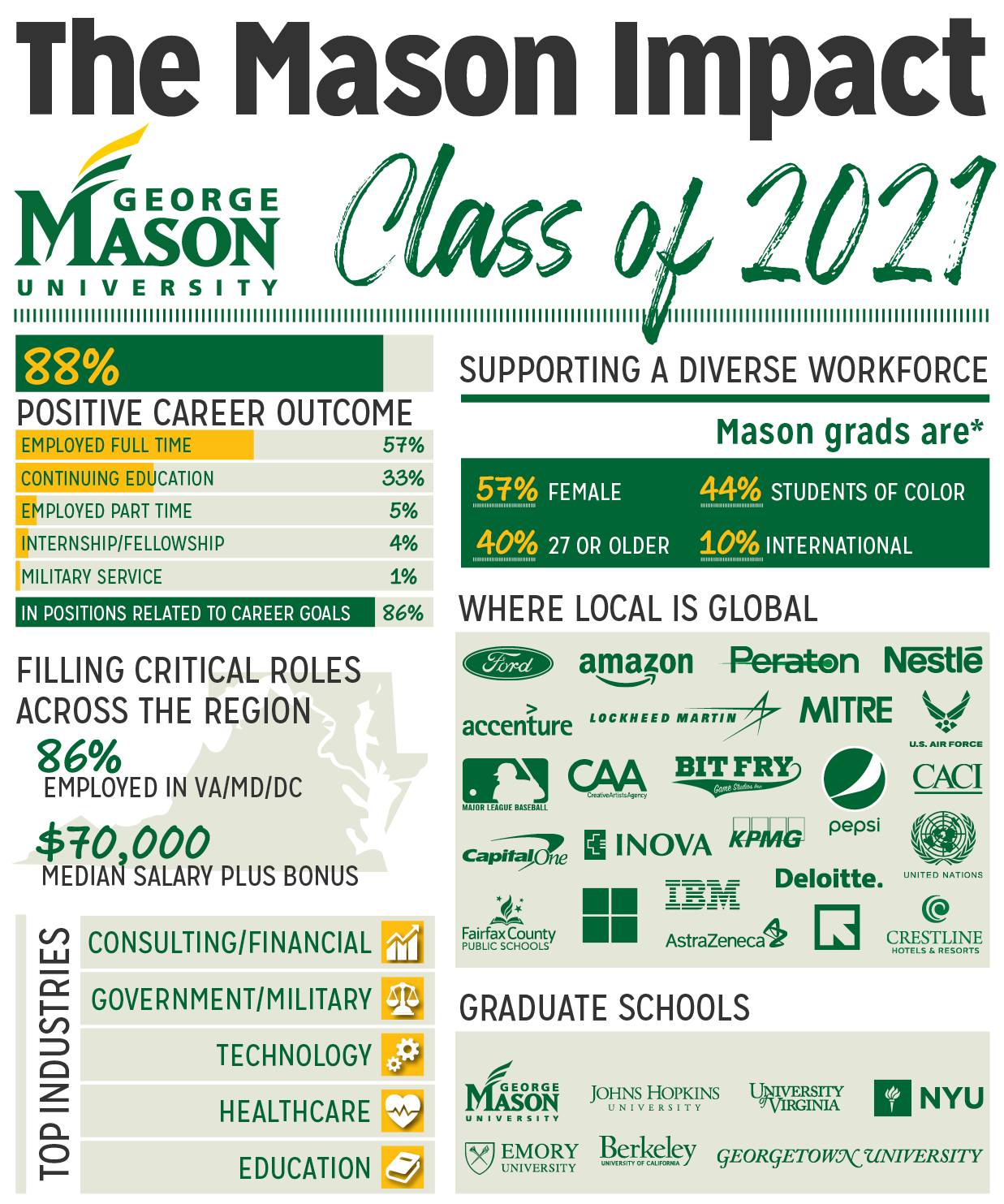 Who is hiring Mason students?
Accenture

Amazon / AWS

Apple

Arlington County

BAE Systems

Battelle

CACI

Capital One

Cisco

City of Alexandria

Crestline Hotels

CVS Health

Deloitte

Epoch Games

EY

FBI

Fairfax County Public Schools

General Dynamics

General Mills

Goldman Sachs

Google

INOVA

International Rescue Committee (IRC)

KPMG

Lockheed Martin

Merk

MITRE

Microsoft

NASA

Nestle

NIH

Northrop Grumman

NOVA Parks

Paypal, Inc.

PAE

Peraton

Raytheon

Sentara Health

Shakespeare Theatre Company

United Nations

U.S. Department of Agriculture

U.S. Geological Survey

U.S. Senate

VA Supreme Court

Verizon

Washington Nationals

Westat
Note:
*Graduate numbers and respondents referenced above do not include Law or Certificate students. The Career Plans Survey was conducted among Class of 2021 graduates in August, December, and May. The full survey was initially administered online by email. Additional data were collected via reviews of students' social media profiles (e.g., LinkedIn), and National Student Clearinghouse Data to determine career outcomes, yielding data from 4,294 of 9,507 graduates. Additional percentages reflect varying numbers of respondents per item. Percentages may not be 100% due to rounding.