George Mason University has a commitment to producing career-ready graduates.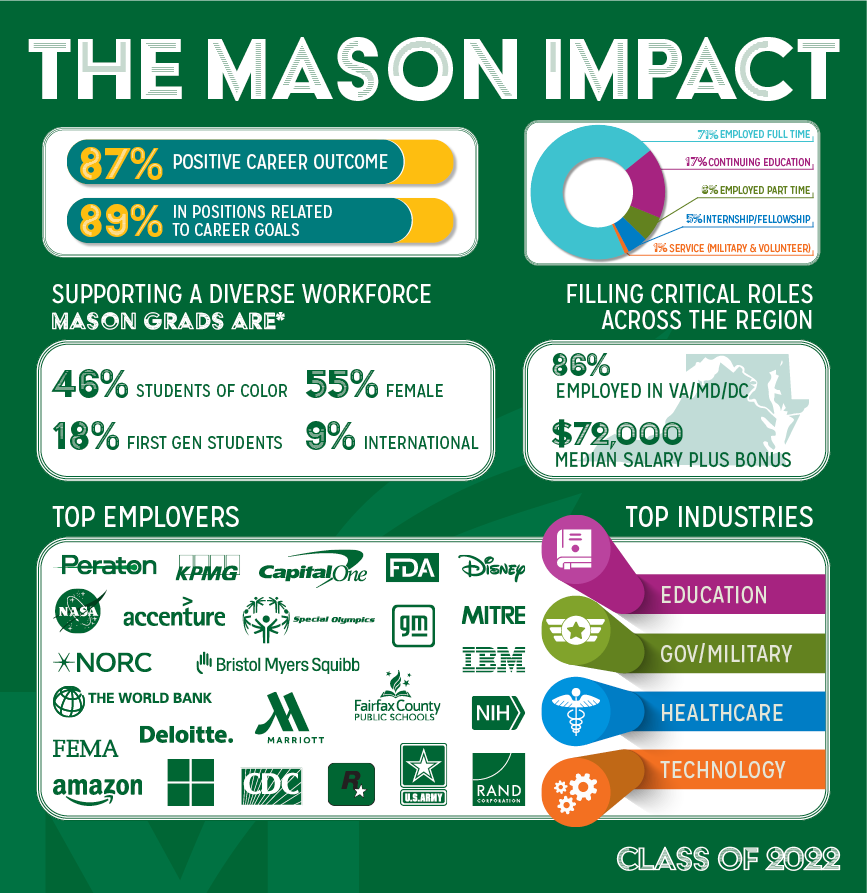 Who's Hiring Mason Students
Accenture
Amazon / AWS
Apple
Arlington County
BAE Systems
Battelle
CACI
Capital One
CGI
City of Falls Church
Clark Construction
CVS Health
DC United
Deloitte
EY
FBI
Fairfax County Public Schools
General Dynamics
General Motors
Goldman Sachs
Google
INOVA
International Rescue Committee
KPMG
Marriott International

Merck
MITRE
Microsoft
NASA
NBC Universal
Nestle
NIH
Northrop Grumman
PAE
Pearson Education
Peraton
Raytheon
Robert Wood Johnson Foundation
Rockstar Games
Sentara Health
Signature Theatre
U.S. Department of Defense
U.S. Department of State
VA Department of Energy
Verizon
Warner Bros Discovery Inc
Westat
Note:
Based on responses to Mason's Career Plans Survey for the Class of 2022 (which includes graduates from August 2021, December 2021, and May 2022) the response rate of which was 24%. In addition, Mason supplemented the survey data by gathering information from social media profiles (e.g., LinkedIn) and the National Student Clearinghouse. Doing so yielded information from 4,589 of 9,154 graduates or 50%. Please note: neither Law School graduates nor those earning only a certificate are included. Percentages may not equal 100% due to rounding. *Demographics represent all students who graduated regardless of survey participation.